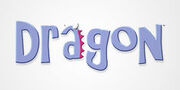 Dragon 
 is a tv show where Dragon do many things everyday.
Characters
Alligator: He calls dragon Little Blue Dude.
Beaver: He likes to do anything.
Dragon: He likes to do things all In one day.
Mail Mouse: She comes and delivers the mail.
Ostrich: She runs the store at town and she always be a superhero at her spare time.
Ad blocker interference detected!
Wikia is a free-to-use site that makes money from advertising. We have a modified experience for viewers using ad blockers

Wikia is not accessible if you've made further modifications. Remove the custom ad blocker rule(s) and the page will load as expected.