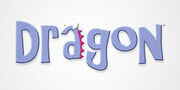 Dragon 
is a TV show where Dragon does many things everyday with his friends Alligator, Beaver, Ostrich, Mail Mouse.
Characters
Alligator: He calls Dragon Little Blue Dude and sometimes by his real name.
Beaver: He likes to do anything but sometimes grumpy on rare occasions.
Cat: She is a cat who doesn't like to do much.
Dragon: He likes to do things all in one day.
Mail Mouse: She comes and delivers the mail.
Ostrich: She runs the store at town and she always wants to be a superhero at her spare time.
Episodes