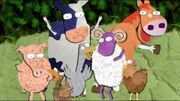 Funky Valley
is a UK children's television series created, designed, and directed by Sarah and Simon Bor. It is produced by Honeycomb Animation for Channel 5. It also aired on Treehouse. Each five minute episode is set in a barnyard full of the usual farm animals. The main characters are usually [[Dippythe Cow, Porker the Pig, Hoot the Owl, Horatio the Horse, Clara the Hen, and Daphne the Bossy Duck.
Episode Overview
In each episode the characters are doing what farm animals usually do (for example, Porker relaxing in his giant mud puddle). There is always a problem, either a big hailstorm, or Gertrude the goose bragging about how pretty she is, which leads to the plot of the episode. Hoot the owl usually comes at the end and helps solves the problem.
Characters
Amadeus: A wolf playing a violin.
Clara: A loud hen.
Daphne: A very bossy duck.
Dippy: A cow who is always forgetful.
Fleecie: A sheep.
Gertrude: A goose who wishes she was a swan.
Hoot: A very wise owl who helps his friends when there is a problem.
Horatio: An orange horse who loves apples.
Porker: A pig who loves mud and is Dippy's closest friend.
Tree: A talking apple tree.
buster: a Ram
Fergus a fox with fanny goat friend
fanny a goat also have a fox name fergus
swallow is a bird don't like to fly
ticker a cat can scare
snap a baby crocodile goes to school and the dentist
mommy crocodile snap mom was going to the dentist
shelly a tutle goes for a race
nature is a badger can eat apple and become a monster in a barrel
stadley a reindeer from christmas
keehie a caterpillar become a butterfly
booboo a ?
batty a bat
percy peacock
Ad blocker interference detected!
Wikia is a free-to-use site that makes money from advertising. We have a modified experience for viewers using ad blockers

Wikia is not accessible if you've made further modifications. Remove the custom ad blocker rule(s) and the page will load as expected.