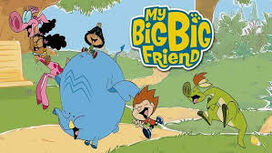 My Big Big Friend
is a series created by Canadian and Brazilian Andrés Lieban and Claudian Koogan Breitman, co-produced by Brazilian studio 2D Lab and the Canadian company Breakthrough Animation. Had its first showing on August 9, 2010 on Discovery Kids Latin America and May 9, 2011 premiered on TV Brazil. It premiered in Canada in Treehouse TV on August 20, 2011. It was financed with the laws of federal tax incentives, the Procult (BNDES) and the Audiovisual Sector Fund - FSA.
The show centers around the friendships of three children, Yuri, Lili and Matt, each of whom has a "Big Big Friend" who is invisible to adults and other children but seen by all three friends.
Ad blocker interference detected!
Wikia is a free-to-use site that makes money from advertising. We have a modified experience for viewers using ad blockers

Wikia is not accessible if you've made further modifications. Remove the custom ad blocker rule(s) and the page will load as expected.