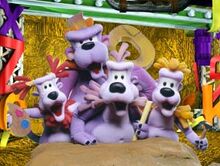 The Bittles Is a Canadian/American children's television series that aired on YTV and Treehouse TV. The Bittles are puppets who turn stories into books in the Book Mine.
The puppets include Comma, whose job is to make sure that all the words are right; Lolly, the artist who paints the pictures; Rocco, the foreman of the book construction site and  The Grump, who is the reluctant backbone of this heavy-duty book building operation.
In addition, The Bittles characters have their own, parallel stories within the creation of each book. In each episode, the series focuses on stories from two different Kids Can Press books. The series uses a combination of puppetry, Computer-generated CGI animation, and lightly animated stills from books to bring the stories to life.