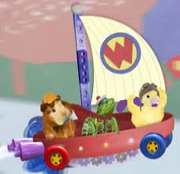 Wonder Pets!
is an American animated children's television series. It won an Emmy Award in 2008 and 2010 for Outstanding Achievement in Music Direction and Composition in the United States.
History and format
The Wonder Pets! television series was created by Josh Selig for Little Airplane Productions. The show was first seen as a short Nick Jr.'s film series called Linny the Guinea Pig, in which a guinea pig named Linny traveled into space and under the ocean. Ming-Ming Duckling and Turtle Tuck were created when the show was expanded and called The Super Singing Power Pets!. The title was later shortened to Wonder Pets. The show's main characters are three elementary school classroom pets — Linny the Guinea Pig, Turtle Tuck, and Ming-Ming Duckling. They are presented as a trio of heroes who rescue baby animals as they demonstrate the benefits of teamwork.
Ad blocker interference detected!
Wikia is a free-to-use site that makes money from advertising. We have a modified experience for viewers using ad blockers

Wikia is not accessible if you've made further modifications. Remove the custom ad blocker rule(s) and the page will load as expected.