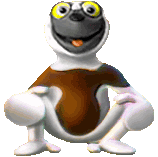 Zoboomafoo is an American/Canadian children's television series that aired on PBS from January 25, 1999 to April 28, 2001. A total of 65 episodes were aired. A creation of the Kratt Brothers (Chris and Martin Kratt), it features a talking Coquerel's Sifaka, a lemur, named Zoboomafoo, or Zoboo for short, and a collection of repeat animal guests. Every episode begins with the Kratt brothers in "Animal Junction", a peculiar place in which the rules of nature change and wild animals come to visit and play. After January 16, 2004, the show was pulled from its weekday airing on most PBS stations, though some continue to air the show.
Ad blocker interference detected!
Wikia is a free-to-use site that makes money from advertising. We have a modified experience for viewers using ad blockers

Wikia is not accessible if you've made further modifications. Remove the custom ad blocker rule(s) and the page will load as expected.